Atrocity Alert: Nigeria, Democratic Republic of the Congo and the Protection of Civilians
Atrocity Alert No. 348, 24 May 2023
Atrocity Alert is a weekly publication by the

Global Centre for the Responsibility to Protect

highlighting situations where populations are at risk of, or are enduring, mass atrocity crimes.
LATEST INTER-COMMUNAL CLASHES IN NIGERIA'S MIDDLE BELT KILL MORE THAN 100 PEOPLE
On Monday, 15 May, armed groups attacked at least 20 villages in Mangu, a Local Government Area in Plateau State, north-central Nigeria, killing at least 100 people, including many women and children. Local sources report that over the course of several days a large number of armed men – likely from the ethnic Fulani community – invaded the villages, burning and looting properties while shooting at civilians. Survivors are still searching for dozens of people who remain missing. The Nigerian police reported that seven suspects have been arrested so far.
While the cause for these attacks remains unclear, recurring conflict between herders and farmers in Nigeria's Middle Belt region is often rooted in historical grievances over land use and resource allocation. These disputes have been exacerbated by climate change, expanding agriculture and growing desertification in northern Nigeria, which has driven many ethnic Fulani herdsmen, who are mainly Muslim, southward into areas traditionally farmed by settled communities that are predominately Christian. The competition for resources has resulted in herder-farmer violence and has also exacerbated religious and ethnic tensions.
Following the attack, President Muhammadu Buhari reiterated his government's commitment "to fishing out the perpetrators of the attacks and bringing them to justice." Despite regularly expressing this commitment during his eight-year term, the security situation has worsened, with populations at increased risk of atrocity crimes due to inter-communal violence and continued attacks by the armed extremist groups Boko Haram and the so-called Islamic State in West Africa, as well as by armed bandit groups.
On 29 May President-elect Bola Tinubu will be sworn in. During his campaign, Tinubu promised to tackle the escalating violence and multiple security threats across the country. Juliette Paauwe, Nigeria expert at the Global Centre for the Responsibility to Protect, said, "President-elect Tinubu has a great challenge ahead of him. He must encourage innovative approaches to peacebuilding and atrocity prevention, including by expanding local peace commissions and improving local early warning systems that can monitor threats to populations and trigger early responses to prevent escalation."
The Nigerian government must address the root causes of inter-communal violence in the Middle Belt through socio-economic initiatives and political reforms that tackle land rights and poor governance. The governmental Plateau Peace Building Agency must enhance its conflict prevention and peacebuilding interventions in Plateau State. The government should also expand efforts to mitigate the effects of climate change, including by accelerating regional initiatives aimed at restoring environments affected by drought and desertification.
Photo Source: © Luis Tato/AFP via Getty Images
Photo Source: © Luis Tato/AFP via Getty Images
Photo Source: © Luis Tato/AFP via Getty Images
Photo Source: © Souleymane Ag Anara/AFP via Getty Images
CATASTROPHIC LEVELS OF SEXUAL VIOLENCE DOCUMENTED IN RECENT WEEKS IN EASTERN DRC
Ongoing clashes and armed group activity in the Democratic Republic of the Congo's (DRC) North Kivu Province have increased the risks of sexual violence facing displaced women and girls in recent months. According to Jason Rizzo, Médecins Sans Frontières (MSF) Emergency Coordinator in North Kivu, MSF teams have been treating a large number of sexual violence victims for months; however, "never before on the catastrophic scale of recent weeks." More than 670 victims were treated at displacement camps in two weeks alone. In most cases, survivors reported being attacked by armed men and displaced men in and around the camps. The number of incidents is likely significantly underreported given local taboos around reporting sexual violence and the stigmatization of survivors.
Since March 2022 more than 1.16 million Congolese have been displaced by violence and insecurity in North Kivu, where the resurgence of armed groups like the March 23 Movement have increased the risk of atrocities, including sexual violence. Nearly 60 percent of those displaced are sheltering in overcrowded sites and collective shelters outside the provincial capital, Goma, where protection measures are insufficient. The UN Children's Fund (UNICEF) recently recorded high levels of sexual exploitation of children at over 1,000 sites in and around displacement camps.
UNICEF's Representative in the DRC, Grant Leaity, stressed, "Deeply vulnerable children and women, seeking refuge at camps are instead finding themselves facing more abuse and pain. The surge in sexual violence against children is horrifying… This wake-up call should shock, sicken, and jolt us all into action."
Earlier this year the UN High Commissioner for Human Rights, Volker Türk, also condemned widespread "vicious sexual violence," which has historically been "used in the DRC as a deliberate weapon of war and strategy of terror." For years thousands of Congolese have survived systematic rape, sexual exploitation, sexual slavery and other forms of gender-based violence. In 2022 alone the UN Joint Human Rights Office in the DRC documented and verified 701 victims, including 503 women, 11 men and 187 girls of conflict-related sexual violence. Under international law, sexual violence can constitute war crimes or crimes against humanity.
Survivors need urgent protection, as well as psychosocial and medical support. The government and international community should scale up humanitarian efforts for displaced populations. The government has initiated important measures, including the adoption of the Law on Reparations for Victims of Sexual Violence and Other Serious Crimes, as well as the signing of the decree to establish a National Fund for the Victims of Sexual Violence. Measures such as these must be fully implemented and operationalized to provide remedy to victims. Government authorities should also investigate, pursue and hold accountable all perpetrators of sexual and gender-based violence.
Photo Source: © Samir Tounsi/AFP via Getty Images
Photo Source: © Alexis Huguet/AFP via Getty Images
Photo Source: © Alexis Huguet/AFP via Getty Images
Photo Source: © Alexis Huguet/AFP via Getty Images
CONFLICT-INDUCED FOOD INSECURITY AND THE PROTECTION OF CIVILIANS
Today, 24 May, marks the fifth anniversary of the adoption of UN Security Council (UNSC) Resolution 2417, which recognized that conflict-induced food insecurity and the unlawful denial of humanitarian access threaten international peace and security. The resolution also called upon all parties to armed conflicts to uphold International Humanitarian Law (IHL) and to protect critical infrastructure. Ahead of the anniversary, on 23 May the UNSC held the annual Open Debate on the Protection of Civilians, focusing on the link between conflict-induced food insecurity and the protection of civilian infrastructure and services in armed conflict.
Despite protections afforded to civilians in conflict under IHL, International Human Rights Law (IHRL), Resolution 2417, as well as UNSC Resolution 2573 – which condemned attacks against objects indispensable to their survival – a number of conflicts around the world have been characterized by a brazen disregard for IHL and IHRL, resulting in tremendous civilian harm and potential mass atrocity crimes. Last year the UN recorded at least 16,988 civilian deaths across 12 armed conflicts, a 53 percent increase compared with 2021. Children continued to be particularly vulnerable to killing, abduction, displacement and recruitment across numerous conflicts. In 2022 nearly 94 percent of the victims of explosive weapons used in populated areas were civilians.
According to the UN Secretary-General's report on the Protection of Civilians, conflict and insecurity were the most significant drivers of high levels of acute food insecurity for more than 117 million people in 19 countries and territories, including in the Central African Republic, Democratic Republic of the Congo, Ethiopia, Nigeria, Somalia, South Sudan, Sudan, Syria and Yemen. In all of these countries, populations are also facing atrocity crimes. Perpetrators in numerous conflicts have been increasingly targeting and destroying food, livelihoods and civilian infrastructure to intentionally inflict mass suffering on civilians. Parties to conflicts are also denying or impeding humanitarian access in contravention of international law.
For example, humanitarian aid has been systematically blocked in Yemen, resulting in the largest humanitarian crisis in the world. Tens of thousands of children have died of starvation while at least 14 million people remain at risk of famine. Schools, medical facilities, markets and essential water and electrical infrastructure have been systematically targeted by airstrikes and shelling. UN experts have reported that parties to the conflict may have used starvation of civilians as a military tactic. Starvation as a weapon of war may constitute a war crime and is prohibited under IHL and customary law.
UN Secretary-General António Guterres stressed, "The terrible truth is that the world is failing to live up to its commitments to protect civilians; commitments enshrined in international humanitarian law… We must do everything in our power to break the deadly cycle of armed conflict and hunger." All parties must take steps to better protect civilians and their livelihoods during conflict, including by upholding IHL and IHRL, allowing unimpeded humanitarian access to populations in need and safeguarding food systems and markets.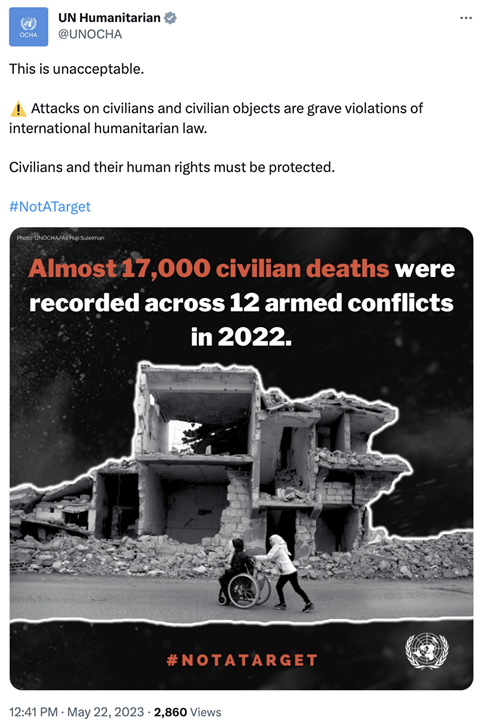 Photo Source: © Mohammed Alwafi/Xinhua via Getty Images
Photo Source: © Eduardo Soteras/AFP via Getty Images
Photo Source: © Fayez Nureldine/AFP via Getty Images
Photo Source: © Eduardo Soteras/AFP via Getty Images
MORE FROM THE GLOBAL CENTRE
STATEMENT BY THE GROUP OF FRIENDS OF THE RESPONSIBILITY TO PROTECT
On 23 May the Group of Friends of the Responsibility to Protect delivered a statement at the UN Security Council's Open Debate on the Protection of Civilians, emphasizing that all parties to armed conflicts must ensure the security and dignity of civilians and safeguard essential services during conflicts.