Global Centre for the Responsibility to Protect 3/15/23
Atrocity Alert is a weekly publication by the

Global Centre for the Responsibility to Protect

highlighting situations where populations are at risk of, or are enduring, mass atrocity crimes.
COMMUNITIES IN EASTERN DR CONGO PLAGUED BY INCESSANT VIOLENCE
In one week alleged fighters from the Allied Democratic Forces (ADF) armed group have killed at least 85 people in a spate of attacks in the Democratic Republic of the Congo's (DRC) North Kivu province. In one horrific attack, authorities reported the killing of at least 39 people, including women, children and the elderly, by the ADF with machetes during an overnight raid from 8-9 March on Mukondi, North Kivu. Some victims died trapped in their homes after attackers set them ablaze. The raid was an apparent retaliatory attack against civilians for the crackdown by Congolese armed forces (FARDC) on armed group activity. Thousands have fled out of fear for their safety.
The latest ADF attacks come as a high-level delegation from the UN Security Council visited North Kivu to assess the security, human rights and humanitarian situation in eastern DRC. On 10 March the UN Refugee Agency (UNHCR) raised alarm of a mounting humanitarian and protection crisis, reporting that incessant violence between armed groups and the FARDC forced 300,000 people to flee in North Kivu in February alone. UNHCR spokesperson, Matthew Saltmarsh, said, "Civilians continue to pay the heavy and bloody price of conflict, including women and children who barely escaped the violence and are now sleeping out in the open air in spontaneous or organized sites, exhausted and traumatised."
For years the ADF has perpetrated recurrent atrocities and retaliatory attacks against civilians, regularly using heavy weaponry and burning down entire villages and other civilian infrastructure. Since April 2022 ADF attacks have killed more than 470 civilians and the group has abducted hundreds, including a significant number of children.
Elsewhere in North Kivu clashes between the FARDC and March 23 Movement (M23) armed group are also intensifying. UNHCR has received testimonies of human rights violations in affected areas, particularly in Rutshuru and Masisi territories, including arbitrary killings, kidnappings, extortion and rapes. Parties to the conflict also continue to use explosive weapons, such as mortar fire and artillery shelling. On 11 March shelling during M23-FARDC clashes killed five civilians in Kahumiro. Despite repeated attempts for a ceasefire, M23 has continued to advance, threatening to cut off road links to Goma, the provincial capital. The risks to civilians and civilian infrastructure are increasing as the conflict nears populated urban areas.
All armed groups in the DRC must cease perpetrating senseless attacks on civilian populations and respect their obligations under International Humanitarian Law, including by taking precaution to spare civilians and civilian objects. Recent massacres in North Kivu must be investigated and the perpetrators punished. The protection of civilians must be paramount as the government works to address the ongoing threat posed by the ADF, M23 and other armed groups.
Photo Source: © Brent Stirton via Getty Images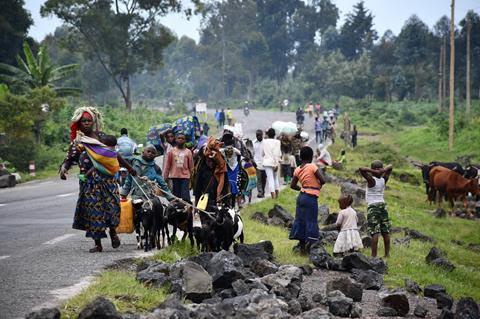 Photo Source: © Zanem Nety Zaidi/Xinhua via Getty Images
Photo Source: © Arlette Bashizi/AFP via Getty Images
Photo Source: © Alexis Huguet/AFP via Getty Images
UN OFFICIALS REPORT ON WORSENING HUMAN RIGHTS CRISIS IN AFGHANISTAN
In his latest report presented to the UN Human Rights Council on 6 March, the Special Rapporteur on the situation of human rights in Afghanistan asserted that the Taliban de facto authorities continue to perpetrate systematic violations of the rights of women and girls and reiterated that these violations may amount to the crime against humanity of gender persecution. The Special Rapporteur emphasized that, "the human rights crisis in Afghanistan has worsened," as the Taliban de facto authorities rule "through fear and repressive policies aimed at suppressing communities, and women in particular."
The Special Rapporteur's report detailed a series of violations targeting women and girls, particularly increasing restrictions on their movement, attire, employment options and access to public space and education. According to the report, the Taliban de facto authorities also continue to flagrantly violate the Convention on the Elimination of All Forms of Discrimination against Women (CEDAW). The Special Rapporteur highlighted that these violations are increasing the risks of violence and abuse faced by women and girls.
Meanwhile, on 8 March the UN Secretary-General's Special Representative for Afghanistan, Roza Otunbayeva, told the Security Council, "It is difficult to understand how any government worthy of the name can govern against the needs of half of its population... [the Afghan people] rightly expect that their country should not be the most retrograde on the planet regarding women's rights."
Ethnic and religious minorities – including Hazara Shias, other Shia Muslims, Sikhs and Sufis – also continue to endure threats and targeted attacks. According to Special Rapporteur's report, from 30 August 2021 to 30 September 2022 at least 965 civilians were killed or injured in 22 targeted attacks, including at least 16 attacks specifically targeting the Hazara population. The Special Rapporteur also warned of an emerging pattern of forced evictions and land grabbing based on ethnicity or political association.
Exacerbating the human rights crisis in Afghanistan are sweeping violations of fundamental freedoms imposed by the Taliban de facto authorities, including the rights to expression, peaceful assembly and association, as well as the rights to life and protection against ill-treatment. Both the UN Assistance Mission in Afghanistan and Special Rapporteur documented dozens of extrajudicial killings, arbitrary arrests, enforced disappearances and instances of torture and ill-treatment.
The Taliban de facto authorities must uphold all existing international human rights obligations codified in the treaties to which Afghanistan is a state party, including CEDAW. The international community should pursue all international accountability options for violations of these obligations.
Photo Source: © Inti Ocon/AFP via Getty Images
Photo Source: © Ying Tang/NurPhoto via Getty Images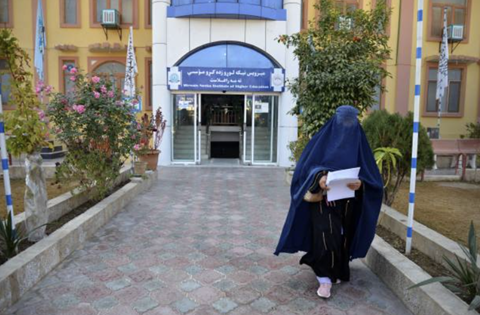 Photo Source: © Stringer/AFP via Getty Images
Photo Source: © Nava Jamshidi/Stringer via Getty Images
SOCIAL MEDIA COMPANIES MUST STAND UP TO MYANMAR MILITARY, UN EXPERTS SAY
Social media companies have a responsibility to do more to stand up to the Myanmar (Burma) military's online campaign of abuse, according to a group of 16 UN experts who released a statement on 13 March. Since the coup, Myanmar's military, the Tatmadaw, has engaged in an online campaign to intimidate democratic opposition and quash resistance efforts. The experts alerted that, "Online rhetoric has spilled into real world terror, with military supporters using social media to harass and incite violence against pro-democracy activists and human rights defenders. … Failing to cement its grip on power by locking up political prisoners and gunning down peaceful protesters, the junta has escalated its ruthless suppression of dissent to virtual spaces."
Women in particular have been targeted and harmed by this campaign, with pro-junta accounts regularly using hateful, sexualized and discriminatory language in an attempt to discredit and intimidate women activists and human rights defenders. Women are also often targeted by so-called "doxxing," which is the act of publishing private information, including names and addresses, of individuals without their consent.
The messaging platform Telegram is of particular concern due to its lenient approach to content moderation. According to the experts, Telegram removed at least 13 pro-military accounts; however, one of the "worst offending" channels is already back online. The experts called on social media companies to allocate the necessary resources to protect the human rights of their users and to take steps to ensure that their services do not facilitate human rights abuses, including gender-based violence and discrimination, arbitrary arrests and assaults on privacy and free expression.
Social media platforms have previously amplified risks for populations and contributed to atrocities perpetrated in Myanmar. For example, in the months and years prior to the 2017 Rohingya genocide, hate speech and anti-Rohingya content proliferated on Facebook in Myanmar. Actors affiliated with the Myanmar military and radical Buddhist nationalist groups spread anti-Muslim propaganda, including language that called for violence to be committed against the Rohingya. In 2018 the UN's Independent International Fact-Finding Mission on Myanmar noted that Facebook had served a "determining role" in fueling atrocities against the Rohingya.
Savita Pawnday, Executive Director at the Global Centre for the Responsibility to Protect, said, "Social media platforms have played a key role in the commission of atrocities in Myanmar, as hate speech and incitement to discrimination and violence have been promoted and amplified. Tech companies must learn from past mistakes by proactively working to identify, prevent and reduce the real-world human rights ramifications that their services are causing in Myanmar."
Photo Source: © Myat Thu Kyaw/NurPhoto via Getty Images
Photo Source: © Sai Aung Main/AFP via Getty Images
Photo Source: © K M Asad/LightRocket via Getty Images
Photo Source: © STR/AFP via Getty Images
MORE FROM THE GLOBAL CENTRE
UPCOMING EVENT: STRENGTHENING ATROCITY PREVENTION THROUGH TECHNICAL ASSISTANCE AND CAPACITY BUILDING
On 27 March join the Global Centre and the Permanent Mission of Canada to the UN in Geneva for this upcoming virtual event at 9:00 EDT/15:00 CEST. Panelists will consider how to systematically incorporate an atrocity prevention lens in technical assistance activities undertaken by the Office of the UN High Commissioner for Human Rights and member states.