UN News Climate Newsletter 9/3/2022
Climate action can't be on the back burner



The past month has been filled with climate-related headlines all over the world, and unfortunately, they haven't been very positive.

From unprecedented deadly flooding in Pakistan and Chad, to the intense droughts in the Greater Horn of Africa, United States, and Europe, and record-breaking heatwaves in China – together with other extreme weather events including wildfires - the whole planet is feeling the wrath of climate change. And there is, to repeat the title of our award-winning podcast series, no denying it.

"As we continue to see more and more extreme weather events around the world, it is outrageous that climate action is being put on the back burner as global emissions of greenhouse gases are still rising, putting all of us – everywhere – in growing danger", the UN Secretary-General said this week.

Earlier in August, António Guterres upped the stakes, saying it was "immoral" that major oil and gas companies - fossil fuel burners - are reporting record profits while prices soar as a result of the energy crisis fuelled by the war in Ukraine.

A brief from his Global Crisis Response Group on energy, found that by 2030, an ambitious renewable energy transition could create an additional 85 million jobs, and also reduce future exposure to "volatile" fossil fuel prices.

While right now the world lives a tragic 'new normal' of extreme weather as the climate crisis worsens, the solutions exist to fight rising temperatures, create a "renewables revolution", and at the same time work towards a more sustainable future.

As always in September, the United Nations is preparing for the start of a new session of the General Assembly, which during its high-level week, beginning on the 20th, will bring global leaders together to discuss, and hopefully find solutions, to the world's biggest problems.

The Global Goals Week, as well as the SDG moment on September 19th, will be important opportunities to highlight the importance of climate action, which without a doubt will be front and centre again as the new Assembly begins.

Also, as part of the UN Decade of Ecosystem Restoration, this month will highlight the most significant projects happening around the world.

In the meantime, for our featured story out today, we show you how restoration action is already being taken by women scientists in the UNESCO Seaflower Biosphere Reserve.

Also scroll down to learn about the value of groundwater, how countries could protect communities from climate disasters, and to listen to our signature podcast which explores if air pollution is actually improving (or not) around the world.
Did you know that women represent just 38 per cent of all ocean scientists?
A women-led community organisation in San Andres, the biggest island in the Seaflower UNESCO Biosphere Reserve in the Caribbean, is working to restore some of the most important marine ecosystems in the world.
We explore their work and research, which is paving the way for bigger women's representation in ocean science.
UN spotlights 'invisible' value of groundwater



Groundwater, which sustains drinking water supplies, sanitation systems, farms, industries and ecosystems, is being overused, polluted and neglected.

Read more
Greater Horn of Africa drought forecast to continue for fifth year
As millions of people in the Greater Horn of Africa have already "suffered the longest drought in 40 years," parts of the region are bracing for a fifth consecutive failed rainy season.
Read more
Wildfires and floods don't need to turn into disasters: UN risk report


From record-breaking heatwaves in British Columbia, to wildfires in the Mediterranean, floods in Nigeria, and droughts in Taiwan; the period between 2021 and 2022 saw record-breaking catastrophic disasters in all corners of the world.
Read more
Barbados: New UN disaster preparedness hub built on 'frontlines of climate change'
A new UN-backed humanitarian logistics hub and training centre in Barbados aims to strengthen emergency preparedness and response across the Caribbean.
Read more
We encourage you to forward and share this content – and

to sign up

if you haven't.
Featured podcast:
The Lid is On: Polluted air still kills millions, but solutions are on the horizon

Next week, the UN marks the third International Day of Clean Air for Blue Skies. However, the skies are far from clear of air pollution. Only a month ago, the World Health Organisation warned that practically all the air we breathe is polluted, and that it's killing around seven million people every year.

Ahead of the International Day, Conor Lennon from UN News spoke to Martina Otto and Nathan Borgford-Parnell from the Climate and Clean Air Coalition, which is hosted by the UN Environment Programme.
Is air pollution improving?

From UN Climate Action

Voices of Change
Nicole Becker: Turn that anger into collective action
When Argentinian climate activist and UNICEF Youth Advocate, Nicole Becker, learned that the climate crisis was one of the greatest threats to justice and human rights, she was determined to make some important changes in her life.
The climate issues at the heart of COP27
From 6 to 18 November, Heads of State, ministers and negotiators, along with climate activists, mayors, civil society representatives and CEOs will meet in the Egyptian coastal city of Sharm el-Sheikh for the largest annual gathering on climate action.

Featured video:

When Hurricane Iota Nearly Destroyed Providencia Island in Colombia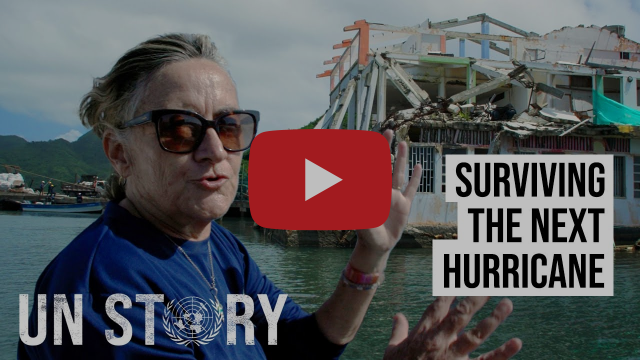 What an environmental tragedy can teach us about climate resilience and ecosystem restoration

Featured UN Report:

Giraffes, parrots, and oak trees, among many species facing extinction

Around one million species are facing extinction, according to a report from IPBES, an independent intergovernmental science and policy body supported by the UN.

Social Media moment:

The climate crisis is a human crisis

Featured from UN agencies:

How digital technology and innovation can help protect the planet

Experts say, in the years to come, a digital ecosystem of data platforms will be crucial to helping the world understand and combat a host of environmental hazards, from air pollution to methane emissions.
A good ancestor to future generations

In Fiji, youth are fighting for a sustainable future, learning from their elders, and enhancing coral reef conservation
From UN Climate Change
Can Africa be a Continent of Solutions to the Climate Crisis?

Africa has long been tagged as a continent of problems, including problems related to climate change. It is impossible to deny that the continent is facing multiple challenges. However, on climate, it seems Africa has untapped resources. Some opine that the continent can be a source of solutions to the worse environmental crisis the world is faced with.
Can solar energy cars be viable?

In 1955, a General Motors employee, William Cobb invented the first model solar-powered car, a tiny 15-inch vehicle, which caused quite a stir when it debuted at a car show in Chicago. Despite all the optimism that surrounded the world's first solar-powered prototype, no one in the following 65 years has managed to turn that model into a full-sized solar-powered commercial vehicle.