Persistent, Expanding, and Escalating Instability



Halfway through 2022, the crisis in the Sahel continues to worsen. Current trends indicate that instability in the central Sahel is persisting, expanding, and escalating, as ACLED outlined earlier this year. 2022 is on track to be the deadliest year for both Burkina Faso and Mali since the Sahel crisis began more than a decade ago. Conflict intensity, as measured by the number of organized political violence events in the first half of 2022, remains highest in Burkina Faso among Sahelian states. Meanwhile, reported fatalities so far in 2022 are highest in Mali, which has been regaining its place as the epicenter of the crisis after being surpassed by Burkina Faso in the count of conflict-related deaths in two of the last three years. Only Niger is faring better in 2022: after experiencing a record year of conflict in 2021, conflict-related deaths are in decline.

An important dimension of the ever-worsening crisis is the scale of atrocities against civilians perpetrated by Malian state forces; Russian Wagner Group mercenaries; Burkinabe state forces; and jihadist militant groups, including the Islamic State Sahel Province (IS Sahel)1, and the Al Qaeda-affiliated Jama'at Nusrat al-Islam wal-Muslimin (JNIM). In fact, violence against civilians involving state forces has reached its highest level since a major spike in early 2020 (for more, see ACLED's report on State Atrocities in the Sahel). In Mali, scaled up operations by Malian government forces coincided with, and were likely enabled by, Wagner's support and newly acquired aerial assets from Russia. Joint military operations between Burkina Faso and Niger along their shared border were accompanied by reports of attacks targeting civilians, resulting in scores of people killed. During the first half of the year, ACLED records some of the deadliest attacks on civilians since the beginning of the crisis. More civilians were killed in the central Sahel in the first six months of 2022 than in all of 2021. In Mali, for example, both civilian fatalities and total fatalities from organized political violence recorded in the first six months of 2022 surpassed the numbers recorded in all of 2021. Similarly, Burkina Faso is likely to surpass last year's fatality totals, with only Niger on track to see a decline.

Armed actors are increasingly ignoring the distinction between combatants and noncombatants. This was the case in the central Malian town of Moura in March, when Malian and Wagner forces killed more than 300 people across five days after initially engaging in battle with JNIM militants (for more on violence targeting civilians by Wagner Group mercenaries, see this ACLED report). In several other deadly attacks, IS Sahel militants explicitly stated that they had attacked civilian "Azawad" supporters in Mali's Menaka region in early March (Jihadology 24 March 2022; 16 June 2022). More than 400 civilian deaths resulted from an IS Sahel offensive against the Movement for Azawad Salvation (MSA) and the Imghad Tuareg and Allies Self-Defense Group (GATIA) throughout the Menaka region and the neighboring Gao region. March 2022 is the deadliest month recorded by ACLED since coverage of the central Sahel began in 1997, driven by the high number of civilian fatalities that resulted from the aforementioned incidents. Since then, JNIM committed mass atrocities in and around the central Mali town of Diallassagou in June, claiming to have targeted militiamen, their "allies," and Malian army collaborators (Twitter @tweetsintheME, 21 June 2022; RFI, 25 June 2022).

Several factors are responsible for the increasing violence in the region. Mali's transitional government, led by the military junta, has allied itself with Wagner mercenaries, whose arrival and offensive alongside Malian government forces has seen attacks against civilians on an unprecedented scale. Malian authorities also severed ties with a longtime ally, France (Al Jazeera, 3 May 2022), which began withdrawing from Mali last year to reshape and relocate its regional counterterrorism mission, Operation 'Barkhane,' making neighboring Niger the mission's central hub. The security void left by France has clearly been exploited by IS Sahel militants, as evidenced by the deadly offensive of unprecedented scale against Tuareg militias and associated communities in northeastern Mali.

Despite the involvement of Malian and Wagner forces, as well as IS Sahel militants, in large-scale attacks on civilians, JNIM remains the most active and deadly actor across the Sahel, particularly in Burkina Faso and Mali. In central Mali, JNIM militants have waged a violent campaign to obstruct the planting season. In doing so, they subjugate the population and force them to disassociate themselves from the state-aligned Dan Na Ambassagou and other Dozo (or Donso), in an effort to undermine their influence. Additionally, since last October when France began its withdrawal from Mali, nearly 50 attacks on the UN peacekeeping mission (MINUSMA) have been attributed to JNIM, including the deaths of 20 peacekeepers. The peacekeeping mission faces growing challenges as Malian authorities seek to deprive it of French air support (Le Monde, 30 June 2022), and impede its freedom of movement and ability to investigate human rights abuses (UN, 13 June 2022).

In Burkina Faso, JNIM conducted a nearly nationwide offensive during the first half of the year, carrying out more than 400 attacks in 10 of the country's 13 regions. The group was involved in approximately 70% of the events reported in the country during this period, and carried out more than five times as many attacks on civilians as IS Sahel. Notably, however, IS Sahel's attacks were deadlier, killing nearly twice as many people.

Activity has decreased in neighboring Niger as IS Sahel has shifted its efforts to the northeastern parts of Mali and Burkina Faso. A gradual geographic shift was also observed within Niger with both IS Sahel and JNIM becoming more active along the border with Burkina Faso, in Tera, Gotheye, and Torodi departments. This shift, particularly by IS Sahel, is likely a tactical decision motivated by the redeployment of French forces to Niger, who historically have concentrated their efforts to northern Tillaberi and western Tahoua.

The conflict ecosystem in the Sahel changed significantly in the first six months of 2022 with the arrival of Wagner mercenaries and the withdrawal of French forces from Mali. However, overall dynamics follow the same patterns documented by ACLED in June 2021. JNIM and IS Sahel have continued to conduct offensives against their respective militia rivals in Mali and simultaneous campaigns against state-backed armed groups in Burkina Faso. Increasingly frequent military operations have had only marginal and temporary effects on the security situation at the local level. Rather, the situation continues to deteriorate as government forces withdraw and militant groups retaliate against civilians, blockade major towns, and forcibly displace populations in rural areas, further exacerbating the ongoing humanitarian emergency in the region. The two military-led governments in Burkina Faso and Mali have promised to provide security. However, as the situation continues to evolve, 2022 is currently set to be the worst year since the crisis began.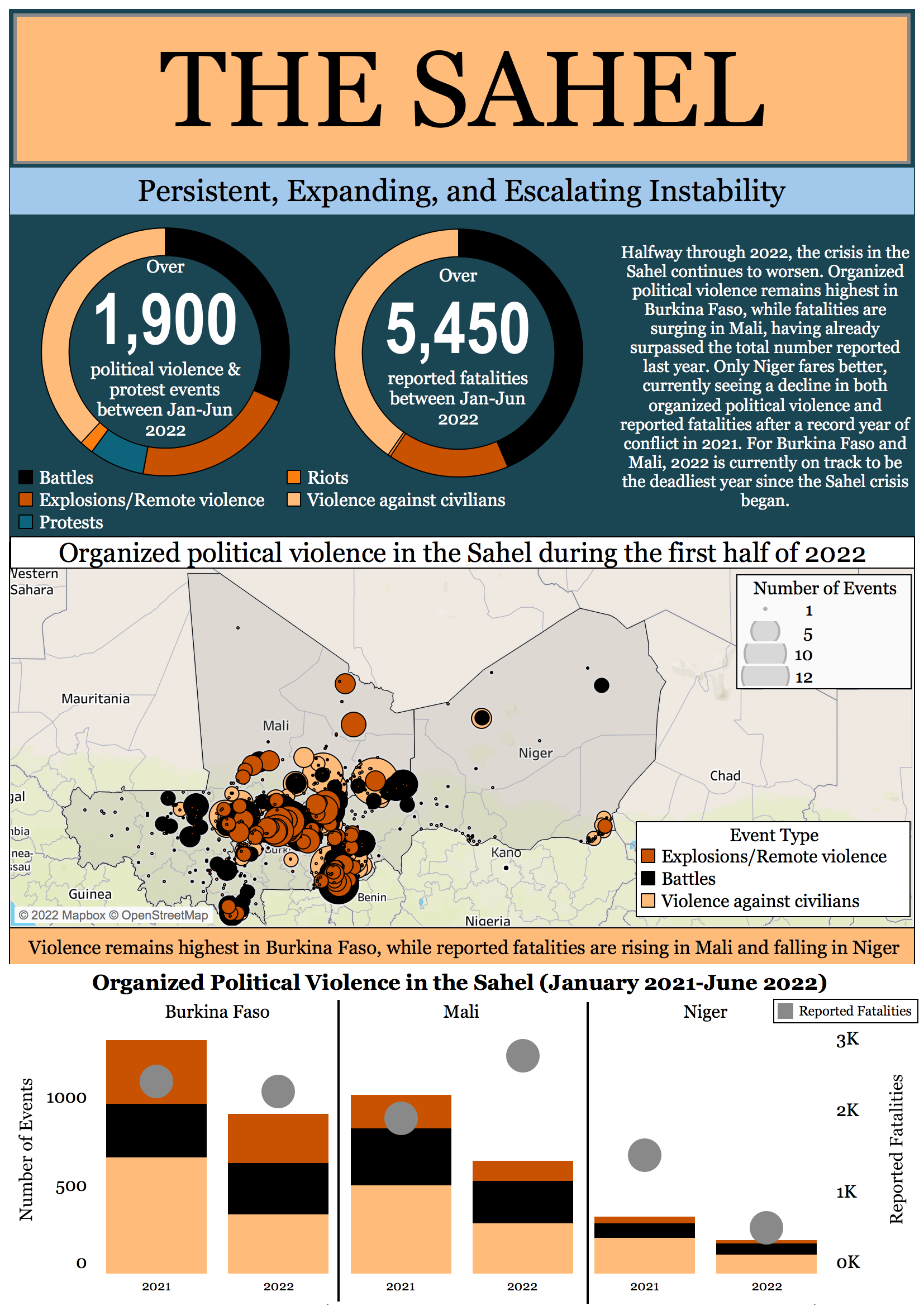 Further Reading
Wagner Group Operations in Africa: Civilian Targeting Trends in the Central African Republic and Mali
State Atrocities in the Sahel: The Impetus for Counterinsurgency Results is Fueling Government Attacks on Civilians
Actor Profile: Dan Na Ambassagou
Sahel 2021: Communal Wars, Broken Ceasefires, and Shifting Frontlines