UN To Remain In Butembo Despite Exit Announcement By Regional DR Congo Government
By
Anti-MONUSCO protests continue in Butembo, with at least 17 civilians and several security officials killed. The exit announcement was followed by an appeal for protests to cease, but MONUSCO says it is still in Butembo.
August 19, 2022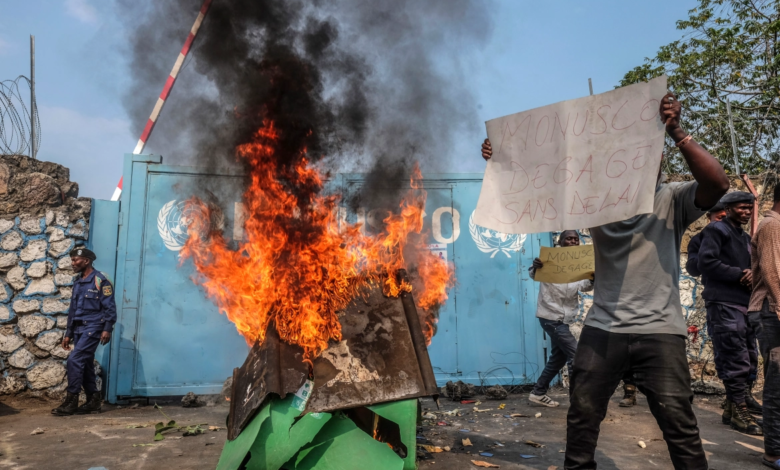 A man holds a placard reading 'MONUSCO get out without delay' during protests in Goma against the United Nations peacekeeping force deployed in the DRC. [Moses Sawasawa/AP Photo]


The United Nations Organisation Stabilisation Mission to the Democratic Republic of Congo (MONUSCO) has announced that it is not leaving Butembo despite an announcement by the military governor of North Kivu, Constant Ndima, on Thursday, August 18, 2022, that MONUSCO forces were leaving the town.

According to the interim MONUSCO spokesperson, Ndeye Khady Lo, MONUSCO will only move some of its equipment and personnel from Butembo to other sites in the country, notably Beni.

"We are not leaving Butembo. We are rather deploying some of our materials to another site. We are still supporting the DR Congo army, FARDC, in Butembo and elsewhere in North Kivu," Ndeye Khady Lo revealed.

Recently, anti-MONUSCO protests which started on July 25, 2022, in Butembo, led to the deaths of at least 17 people.
During a press briefing yesterday morning in Butembo, the military governor of North Kivu, Constant Ndima, announced the withdrawal of MONUSCO forces from Butembo and revealed that most essential personnel of the mission had already left Butembo. He added that the few MONUSCO material still left in the town would soon be moved to Beni. He thus called for protests to cease.

Concerning last Friday's violence that led to the deaths of soldiers and police officers, the military government said it resulted from confusion over the movement of a MONUSCO convoy and called for the youths to be vigilant, assuring them that the departure of MONUSCO was already underway.

Constant Ndima had, since Monday, August 15, been on a visit to Butembo following the violent anti-MONUSCO protests. In three days, the military governor had exchanges with various social groups, especially the urban security committee, the civil society, religious confessions, the media, citizen movements and stakeholders to bring an end to the crisis following the anti-MONUSCO protests and the attack on the Butembo central prison by Allied Democratic Forces (ADF) rebels which led to the evasion of over 800 inmates.