Fears that Egypt may use Cop27 to whitewash human rights abuses

Naomi Klein and Caroline Lucas among signatories to letter voicing concerns over country's hosting of climate summit
Source:
The Guardian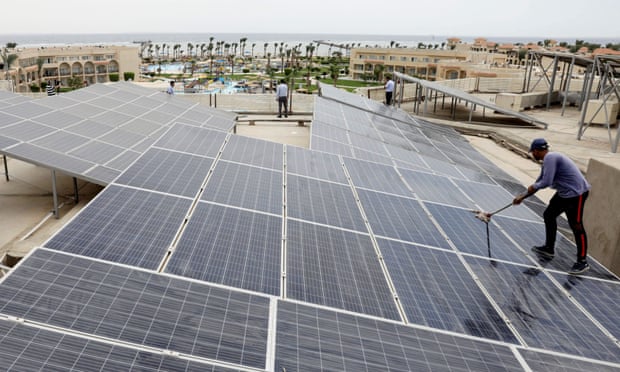 A man cleans solar cells on a rooftop of a hotel in Egypt's resort town of Sharm el-Sheikh, where the Cop27 summit is due to take place in November. Photograph: Mohamed Abd El Ghany/Reuters
Ruth Michaelson
Fri 29 Jul 2022 06.28 EDT

A hundred days before the Cop27 summit is due to start in Sharm el-Sheikh, a group of environmentalists and activists have expressed alarm over Egypt's ability to host the event successfully because of its poor record on human rights, as thousands of prisoners of conscience remain behind bars.

Naomi Klein, Bill McKibben and the Green party MP Caroline Lucas are among those who have signed a letter detailing their concerns about holding Cop27 in Egypt, and demanding that the Egyptian authorities free thousands of political prisoners and prisoners of conscience.

Signatories said Egypt freeing prisoners of conscience would show that it was taking seriously its commitment to holding Cop27. "If Cop27 is to succeed, the visibility and positive pressure created by civic mobilisation will be vital – that must include full rights to freedom of assembly, association, and expression around the conference," they said.

Other potential Cop27 participants, including advisers to the White House, climate activists and rights groups, have also spoken of their fears that hosting the vital talks in Egypt amid the country's crackdown on civil liberties will render the conference ineffective, particularly in a moment when the world faces increased pressure to act on global warming.

Since coming to power in a military coup in 2013, Egypt's president, Abdel-Fatah al-Sisi, has overseen a broad crackdown on human rights, targeting all potential political opposition, domestic and foreign media and civil society. The Arabic Network for Human Rights Information estimates there are at least 65,000 political prisoners in Egypt's jails.

The letter echoes concerns from a coalition of 21 rights organisations including Amnesty International and the Cairo Institute for Human Rights Studies about Egypt's suitability to host the summit.

"Thousands continue to be arbitrarily detained in Egypt for peacefully practising their rights to freedom of expression, assembly and association. This includes staff of Egyptian independent civil society organisations, human rights defenders and activists in the field of economic, social and cultural rights, and minority rights, as well as lawyers, journalists, academics, women social media influencers and artists," they said.

Signatories also drew particular attention to the case of the jailed British-Egyptian activist Alaa Abd El Fattah, now on hunger strike for 119 days inside a desert prison north of Cairo. Abd El Fattah has spent much of the past decade behind bars, notably in 2014 for organising demonstrations against a law effectively banning protest.

Last year, the activist, who is considered one of the figureheads of Egypt's 2011 revolution, was sentenced to a further five years on terrorism charges for sharing a social media post about torture in a detention centre.
The article was republished under the Guardian's
Open License
terms for syndication.