CSIS International Security Brief: May 2022
Dear Colleagues,
It's my pleasure to send you the May 2022 edition of the ISP Brief, the monthly newsletter of the CSIS International Security Program. The ISP Brief features CSIS reports and analyses written by our scholars and includes externally published articles, media highlights such as video interviews and podcasts, and links to recent and upcoming virtual events.

This month our scholars produced analyses on the rise in domestic terrorist attacks and plots at demonstrations, the challenge of European political will, the defense posture of the United States in the Middle East, and the Wagner Group's mounting humanitarian cost in Mali. In addition, our PONI Next Generation of Nuclear Professionals published a collection of papers exploring a range of crucial debates.

We had the pleasure of hosting a number of thought leaders, such as the Chief of the Defence Staff of Italy Admiral Giuseppe Cavo Dragone, Missile Defense Agency Director VADM Jon Hill, and Australian Army Major General Simon Stuart, among others. In addition, we hosted a variety of panel discussions on topics ranging from assessing the Marine Corps' Force Design 2030, the Falklands at 40, the perils and possibilities of using technology for migration management, and the importance of reinvigorating civics literacy in the workplace.

I welcome your feedback on this newsletter and its contents at ispoutreach@csis.org. I also invite you to follow us on Twitter, LinkedIn, Instagram, and Facebook for the very latest on ISP's work.
Sincerely,
Dr. Seth G. Jones
Senior Vice President
Harold Brown Chair
Director | International Security Program
CSIS | Center for Strategic and International Studies
1616 Rhode Island Ave, NW | Washington, DC 20036
BRIEF: Pushed to Extremes: Domestic Terrorism and Polarization and Protest
The number of domestic terrorist attacks and plots at demonstrations has increased, resulting in escalating violence in U.S. cities between extremists from opposing sides. The CSIS Transnational Threats Team, Dr. Seth G. Jones, Catrina Doxsee, Jared Thompson, Grace Hwang, and Kateryna Halstead, update a CSIS data set to assess trends in domestic terrorism through December 2021.

Watch Dr. Seth G. Jones and Catrina Doxsee discuss the findings in the latest PreView episode here.
Russia's illegal invasion of Ukraine has galvanized Europe and triggered a renewed focus on hard security and defense. Dr. Seth G. Jones and Colin Wall analyze whether European political will to conduct military missions and operations worldwide will be sustained in the coming years.
CRITICAL QUESTIONS: Biden's Taiwan Position Is Not an Accident
President Biden deviated from Washington orthodoxy on Taiwan for the third time in six months. It is time to realize he is serious in signaling his intent to support the rules-based international order to deter China from upending the order like Russia has. Learn more on President Biden's Taiwan position from John Schaus.
REPORT: On the Horizon Vol. 4: A Collection of Papers from the Next Generation of Nuclear Professionals
This month, CSIS's Project on Nuclear Issues released "On the Horizon Vol. 4: A Collection of Papers from the Next Generation of Nuclear Professionals," which included research from participants in the 2021 Nuclear Scholars Initiative and edited by Reja Younis. These papers explore a range of crucial debates such as the future of arms control and deterrence, emerging technologies, SSBN vulnerability, public opinion, cyber norms, and the role of regional dynamics including China and India in nuclear security.
EVENT: Lt. Gen. Michael A. Guetlein on What's Next for Space Systems Command
On May 18, Dr. Cynthia Cook sat down with Lieutenant General Michael A. Guetlein, Commander, Space System Command, for a discussion on the future focus of the Space Systems Command, as he manages the research, design, development, acquisition, launch, and sustainment of satellites and their associated command and control systems.
On May 11, Dr. Seth G. Jones hosted Admiral Giuseppe Cavo Dragone, Chief of the Defence Staff of Italy, for a conversation on the future of Italy's armed forces, Italy's defense budget and defense planning, implications of Russia's invasion of Ukraine, and the evolution of NATO and the European Union.

Read the transcript here.
​​​​​​There are growing calls for a decrease in the U.S.'s military presence in the Middle East. In their latest report, Dr. Seth G. Jones and Seamus Daniels assess posture options in the context of Chinese, Russian, Iranian, and other threats in the region.
EVENT: On the Future of the Marine Corps: Assessing Force Design 2030
On May 16, Mark Cancian hosted a lively panel discussion on the Marine Corps' force restructure initiative "Force Design 2030," featuring the Honorable Robert Work, former Deputy Secretary of Defense, the Honorable Dov Zakheim, former Undersecretary of Defense (Comptroller), Gen Anthony Zinni (Ret), former commander, Central Command (CENTCOM), and LtGen Paul Van Riper, former commander, Marine Corps Combat Development Command.

Read the transcript here.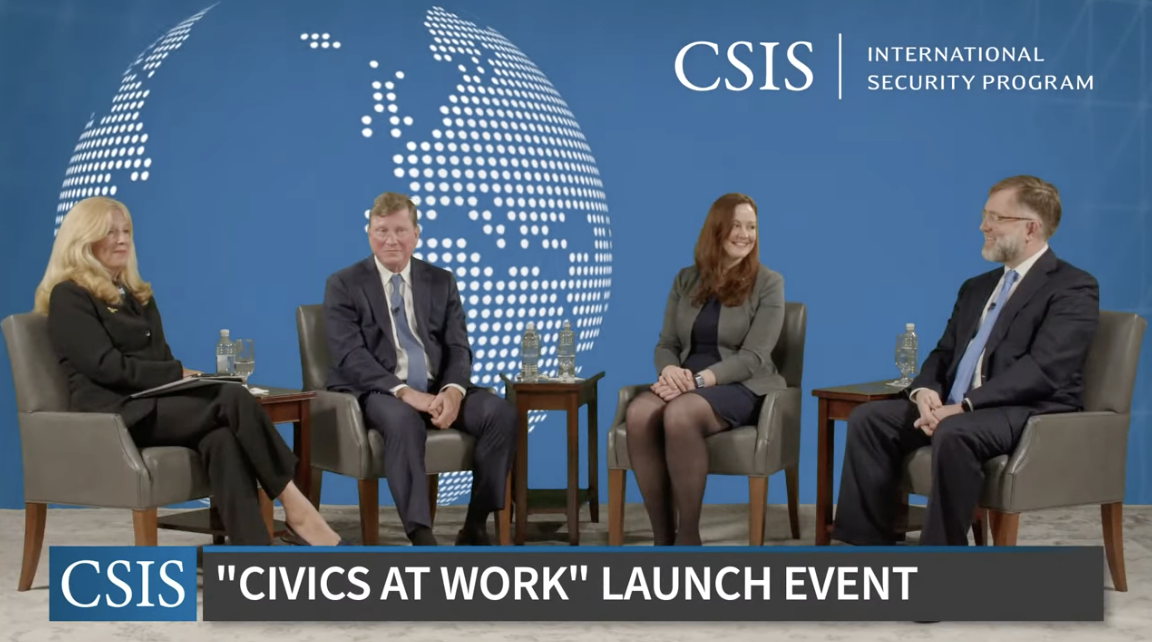 ​​​On May 4, Suzanne Spaulding launched CSIS's Defending Democratic Institutions (DDI) Project's new initiative, 'Civics at Work,' a partnership with leading civics groups, national security practitioners, and business leaders looking to elevate civics as a national and economic security imperative.

The launch event featured Microsoft President Brad Smith, the American Bar Association President-elect Deborah Enix-Ross, Southern Company CEO Tom Fanning, Microsoft VP of Tech and Corporate Responsibility Teresa Hutson, U.S. Chamber of Commerce Foundation Senior VP on Emerging Issues Michael Carney, and Annenberg Public Policy Center Director Kathleen Hall Jamieson.
Thursday, June 2, 2022
11:00 am - 12:00 pm ET
Location: Kenney Herter, The Paul H. Nitze School of Advanced International Studies (SAIS)
Friday, June 3, 2022
1:00 pm - 1:45 pm ET
Online-Only

Submit live questions here.