Defense One Today April 27, 2022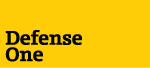 Defense One Today
The U.S. has been sending its Stingers to Ukrainian forces battling Russia.
A 3-star clarifies the three paths described in the Navy's recent longterm fleet plan.
SPONSOR CONTENT
Presented by Booz Allen Hamilton
Strengthen technological superiority with Booz Allen
As the premier Digital Integrator for DOD, Booz Allen brings innovation and trailblazing technology to the forefront of the mission. We deliver state of the art AI, next generation data solutions, secure networks, and innovative software for the digital battlespace. Know, act, and win faster with us.
Visit boozallen.com/defense to learn more.
Their collective-defense rights as EU members suggest a way forward for Ukraine.
A year and a half later, a look at what's changed, what hasn't, and what still might.
Tracking the growth of small artificial-intelligence programs, and more from Day 2.
The nearly 100-year-old test will play less of a role in picking candidates.